Having completed her assessor's qualification alongside the final year of her Painting and Decorating Apprenticeship, Aimee Taylor, 21, has landed a job as an NVQ assessor at City College Plymouth.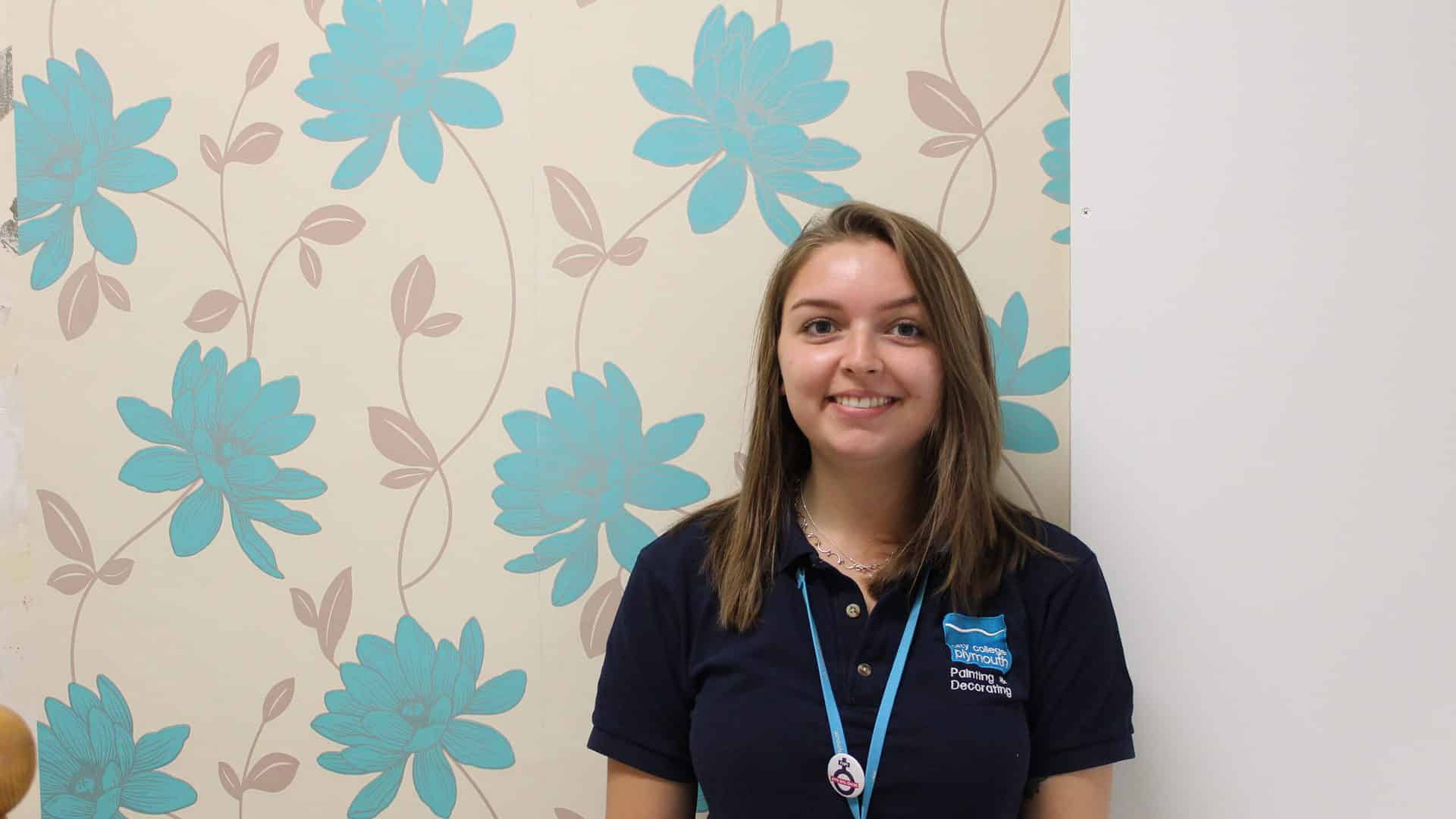 Before starting her Apprenticeship at the College, Aimee studied at Petroc College in Barnstaple, where she completed one year of A Levels in art, English, psychology and sociology. She said: "I did quite well at school, but halfway through my A Levels I decided it wasn't really for me; I realised these qualifications wouldn't take me in the direction I wanted to go."
Aimee decided to pursue her interest in painting and decorating and gained employment as an apprentice through her step-mum, Eliza Tay, who runs an all-female team of decorators. Aimee completed her first two years there and went on to finish her Apprenticeship at the College.   
Aimee said: "I was always interested in Apprenticeships, but when I was at school, painting and decorating was seen as an option just for boys. The only thing for girls was hair and beauty, which I did not want to do! Then my step-mum set up her own business, and she got so much work very quickly, so I decided to help her with it – and really enjoyed it from the start!"
Aimee is now supporting other students and apprentices on their journey to qualify as painters and decorators. Speaking about her day-to-day duties, Aimee said: "In this role I go on-site and take pictures and recordings, and sit down and have discussions with the students to fulfil the portfolio side of their Apprenticeship. Then I'll come back and upload it all, write reports, mark the work, pass it on to the internal verifier and eventually sign it all off and send the students their certificates." 
She added: "I enjoy everything about my job! It's different every day and I get to visit a lot of nice places. There's a relaxed atmosphere here and everyone gets on with their job. There are loads of opportunities for development, too – career-wise and personally. For example, I've done a pottery course and learnt how to tile. I can't fault the College as an employer."
Reflecting on her time as a student, Aimee said: "I enjoyed learning every day – I liked absorbing all this new knowledge and it was a really friendly environment. Compared to learning on the job, we were taught the 'proper' way of doing things at the College and were then able to apply our knowledge in a professional setting." 
"It never felt like an effort going to work as an apprentice or attending College – I enjoyed it all. The best thing about the College are the staff and I'm very appreciative of everything they've done for me. I used to faint quite a lot and have panic attacks – it was never an issue; the lecturers would accompany me out of the workshop and have a sit down with me, bringing me a cup of tea and biscuits – they were very supportive. 
"When I first started my course, it was a bit scary – I arrived on my first day and I was the only girl! But everyone was really nice and I soon established friendships, with my peers as well as lecturers.
"Now that I'm a member of staff, I really enjoy the one-to-one work with the students and watching them grow and develop – it's a delight to see them progress and thrive. At the start they may be grumpy and don't want to be here, but by the end of their qualification they're so grateful! I really do love my job – like with my Apprenticeship, I don't wake up and struggle to motivate myself – it's a great feeling, looking forward to going into work every day."
Looking to the future, Aimee is going to work towards an internal verifier qualification – the next step on her career path. She said: "It's quite a big step! Even now, I'm quite young to be an assessor. Internal verifiers assess the work of the assessors – and following that, the students' work is sent to an external verifier from City & Guilds. It's a very thorough process."
Aimee originally chose to study with City College Plymouth because of the positive experience she had at one of its open days. She said: "I came to the College for an open day and it was all very clear: how everything worked, how I was going to step into an Apprenticeship, where I could go from there – it all made sense. You speak to anyone in Plymouth and it's this college that everyone's heard of."    
To anyone considering an Apprenticeship at the College, Aimee says: "Definitely do it! I think Apprenticeships are the best thing anyone can do! And the facilities at the College are amazing, they don't compare to other training providers."