Regular visitors to Outland Road might recognise the name Mark D Scarry. For many years Mark worked from an office that looked out on to one of Plymouth's busiest roads, where he provided financial services to clients.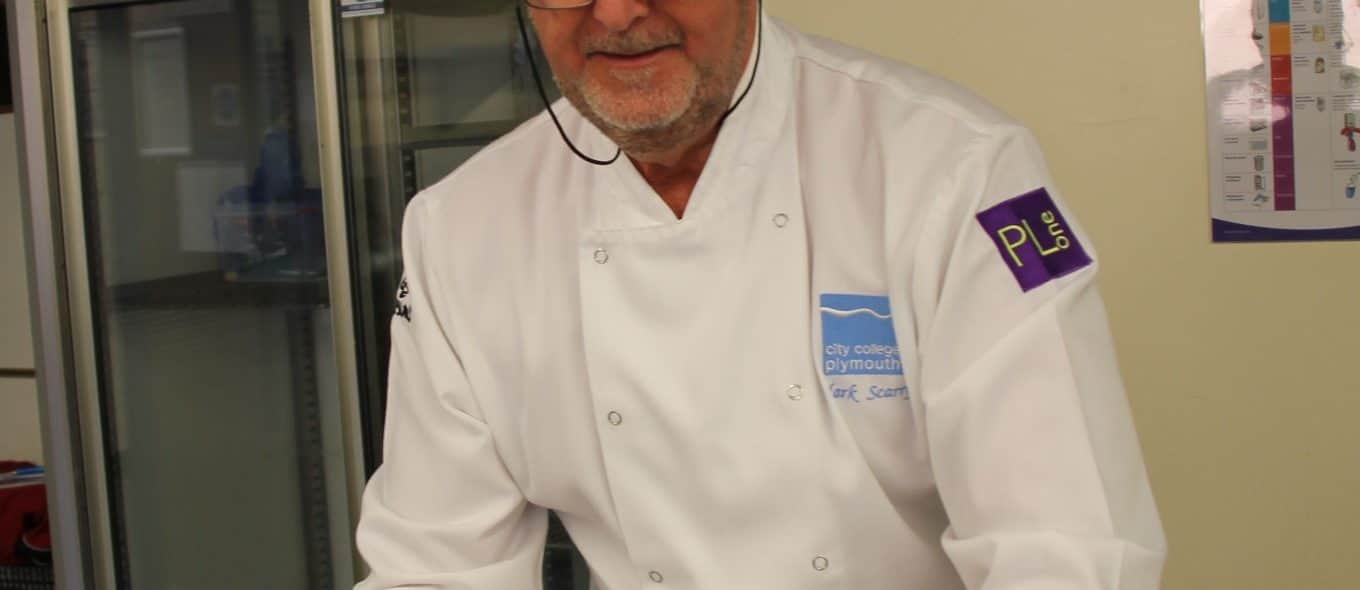 Mark is still very much involved with the financial world, but the past few years have seen him start to explore a very different passion he thought buried long ago. Like many parents, as his only son grew older and more independent, Like many parents, as his only son grew older and more independent, Mark found more time in his life that City College Plymouth is now helping him to fill.
 Mark explained: "While I'm very proud of my son and delighted he has found his own life, he was my best friend and we did a lot together. To fill some of that time, I decided to start experimenting in the kitchen. I really enjoyed studying cookery at school and expressed an interest in taking it further, but, rightly or wrongly, I was talked out of it." 
Mark, who worked on cruise ships and is well-travelled, also had some time in beverage and an insight to a restaurant before eventually becoming a financial adviser. He admits his first attempts at cooking weren't that great; however, he soon found he had a bit of flair in the kitchen.
He added: "If I am honest, I am a student by chance. I bumped into a friend at the supermarket and explained how I was really enjoying cooking and they suggested doing a course in Okehampton, which didn't appeal. A couple of days later, a client suggested an evening course at City College and I thought, 'why not?'. 
"By chance the College was holding an open day around then, which I attended and received some information – it was almost like it was meant to be. After that I decided to look at the different professional courses and I started the NVQ Diploma in Professional Cookery in January 2018, which is run during the day."
Mark, who was 56 when he enrolled, said he initially felt a bit anxious at potentially being so much older than the other students; however, he said he was accepted from the minute he entered the kitchen. 
He was shown the college vegetable and herb gardens and was not surprised to learn that all produce is bought and provided by local suppliers and farms.
He added: "From day one you are called 'chef' by the staff and other students. You instantly feel like you belong. I had started a few months after the rest of my group, but they knew the expectations that had been clearly set out by the lecturers and the rest of the team: the expectation that you respect one another at all times and treat each other as professionals. I was instantly welcomed into the group and became good friends with people of all ages."
Mark also had high praise of the staff for the guidance they provided after he completed the NVQ.
"The team explained the different options and what we would gain from the different routes. I opted for the patisserie and confectionery course because it was something I hadn't done before: I cannot fault the guidance they provided," he said.
"The lecturers are also great at encouraging us to be reflective. If something goes wrong, they ask us to think about what might have happened. If something goes well, we are asked to think about how we could make it even better. All of the staff are excellent and dedicated to the students. You couldn't ask for a better team.
"In short, if I was asked to use one word to describe each member of the team, it would be passionate: I'm proud to be a student here."
Mark is expecting to finish the Certificate in General Patisserie and Confectionery in July, but currently has no firm plans as to what he will do next.
Mark said: "I am so focused on this course at the moment and whilst I have some ideas, I haven't given much thought about what happens once I've finished. I want to concentrate and enjoy the journey rather than focus on the destination."