At the age of 29, Emma Adams has already enjoyed a successful career in hospitality, experienced running her own business, and has enjoyed the opportunity to travel, which included a stint living in Barcelona. Her success has also been matched by sadness and crippling anxiety which, for a time, saw her as merely a shadow of herself who, at times, was unable to leave her home. The one constant in Emma's life that has been with her during the highs and the lows is her love of performing and her passion for theatre.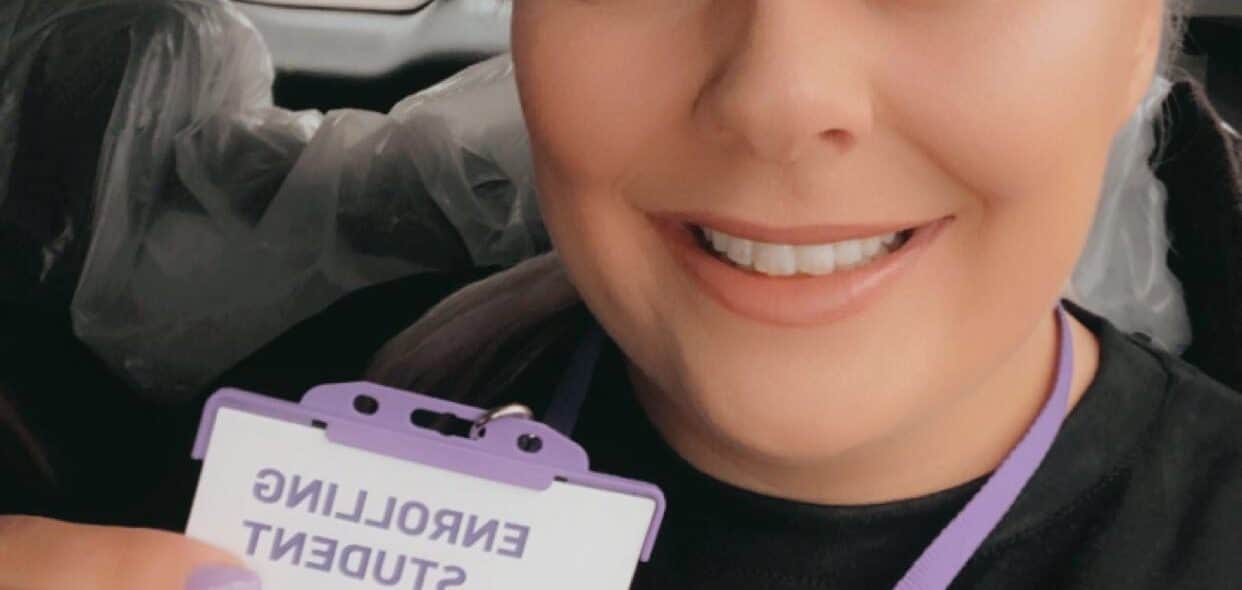 Emma always enjoyed acting and dancing as a child, but lacking the confidence to pursue this career path right away, she first went to sixth form at Saltash to study A Levels. A severe case of glandular fever forced Emma to put her studies on hold, but when she decided to return to education the following September, Emma decided to follow her dreams and signed up to study performing arts at City College. 
Emma explained: "I loved everything about the diploma – the people, the lecturers, the content. But, just as we were reaching the end of the course, I had another crisis of confidence and I didn't feel I had the ability to go on to drama school. Instead, I worked with a couple of my coursemates and we set up our own theatre group. 
"I didn't really appreciate how successful that venture was going to be, and we were very fortunate; but a lot of my time was spent running the business side of things. It was a fantastic experience that I am really grateful for, but it wasn't the right job for me at that time. I felt like my time was running out if I wanted to be on the stage, so I decided to leave the company and move to London."
Like thousands of performers who head off to London in hope of their big break, Emma was forced to find other work to pay for her rent and bills, but in doing this, Emma found another career that was a surprisingly good fit for her theatre training. 
"I started working in the hospitality industry," Emma said. "It's a bit of a cliché really, an aspiring actor working in a hotel; but I actually loved it. In six months I went from being a receptionist to management. I suppose there are some people who would hate to end up working in hotel management when you had your heart set on performing; but when you work in hospitality, you have to perform every single day."
Emma believes she wouldn't have progressed within the industry without some of the skills she had picked up during her drama training. In addition to being able to remain calm whilst under pressure, Emma says studying performing arts also helps you to learn how to think on your feet, to prepare for things to go wrong, it improves your confidence and helps you face every challenge head on, and usually with a smile. 
After a few years in the hotel industry, Emma took the opportunity to travel before deciding she needed some stability, and she returned to Saltash, met her fiancé and started thinking about her next move. Unfortunately, a series of family tragedies affected Emma's mental health, leaving her with severe anxiety and PTSD.  Emma said: "It was a hugely tough time. Some days I didn't even want to leave the house; however, whilst going through that difficult period, I still clung on to my love of drama."
With the goal of becoming a theatre arts teacher, Emma started investigating the different university-level courses to help her achieve this. When asked if Emma had considered studying elsewhere, her response was: "I knew City College: I trusted City College – and with the various university-level courses on offer, I didn't need to look anywhere else." 
Emma added: "I first spoke to our course lead Sam Pomeroy on the phone. He has a very reassuring voice and he talked me through my options. He started talking about the Creative Actor Foundation Degree and he told me about the different modules – it sounded so exciting. Sam then asked if I could go to the College for an audition … in one hour! To some, having such little warning might sound horrendous, but I am so pleased I didn't have time to overthink it and talk myself out of it."
After successfully gaining a place, Emma said she is pleased to be back and has been thoroughly impressed by the levels of welfare support shown by both her lecturers and the College's counselling service. She explained how the staff have helped her manage her workload and to reduce the levels of pressure she places on herself. Emma also said that, whilst she is one of the oldest students in her year, she said that she had never felt uncomfortable or out of place. 
"To the younger students, I'm just one of the group: we help each other, we enjoy each other's company. I can't even begin to tell you how much just being at the College and studying that course has helped me. The lecturers work incredibly hard and even during COVID, they still managed to teach the most engaging and innovative of lessons. I've been so impressed with the experience of higher level education at City College so far, and I look forward to the next two years as I work towards a full degree."